Running is one of those forms of exercise that yields a greater return than what you put into it. It requires no paid memberships, no specialized equipment short of a decent pair of running shoes (which can be obtained for about $100), no special classes or training, or the necessity of a partner or being part of a team. You just lace up your running shoes, open the door, and start running.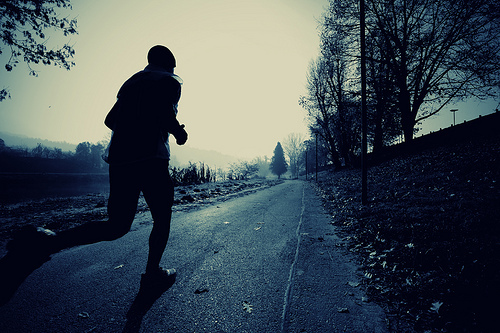 Running a 5K provides a good workout without messing you up
With few exceptions, anyone can run, and the benefits of it include weight loss, strengthened muscles, and an improved cardio-vascular system. Then, of course, there's the natural high and sense of well-being that you can get from the endorphins produced when you break through "The Wall".
It's easy to get addicted to running, but before you go too crazy, it's prudent to try some organized running activity that's challenging but not insane. This is where the 5K comes in.
The Almighty 5K
You can't swing an old pair of running shoes without hitting a sign advertising a new 5K. Clocking in at a mere 3.1 miles, a 5K is a good way to participate in an organized form of running that gives you a tangible goal to shoot for, a good idea of your performance via an official time, the camaraderie of running with a crowd of fellow enthusiasts, and the feeling of accomplishment when you finish.
Even someone who has never seriously run can go from the status of non-runner to a 5K contender in anywhere from six to twelve weeks, depending on the program. It depends on your overall physical shape at the start.
The beauty of a 5K is it's long enough that you can really say that you've been in a road race, yet it's not a half-marathon or anything nearly as grueling. But the 5K is definitely the gateway drug for hardcore runners. After you finish your first one and see your name posted on the race results pages, you'll find yourself starting to look at possible marathons to tackle.
It Takes All Kinds
As a rule, a 5K course isn't too difficult, unless of it's actually being billed as a particularly nasty route. In fact, there is something called a "Fast 5K," which is a route that incorporates a gradual downward slope. Not only is it easier to run (since gravity is your partner), it's a great ego boost, as you end up finishing it faster than you would a normal course.
Organizations of all shapes and sizes hold 5Ks. Some races are holiday-themed, others are charity runs. There are 5Ks that allow you to run with your pet, and others where you are chased by zombies or get splashed with colored paint along the route. There's a 5K out there for everyone's tastes, if you look hard enough.
My personal favorite is the Ras na hEirann, or "The Race of Ireland & USA". Held in Davis Square, Somerville, Massachusetts, this Irish-themed 5K concludes with a large party that is held among the dozen Irish pubs in the area. Yes, there is beer. Talk about incentive to reach the finish line!
Increasing That Distance
Once you get a few 5K's under your belt, you'll want to start pushing the envelope a bit and take on bigger challenges. But when you decide to bring it up a notch and go for a race that's a little longer, you should definitely make sure you know what kind of new challenges you'll face. For instance, flush off our success with the Ras na hEirann, my wife and I decided to try out a 6K race in our home city of Nashua, New Hampshire. After all, what's an additional kilometer between friends?
What we failed to take into consideration was that this course ran through the back streets of Nashua, which have more hills than a roller coaster designed by a sadist. By the time we were done, and yes we did finish, our legs were a mess. My ankles didn't stop hurting for about four weeks afterwards. This is a case where, if you get the chance, checking out the course ahead of time is a downright smart idea.
Whether you're a relative newbie or a longtime runner, a 5K race is the perfect choice for anyone who wants a little more structure and challenge without trying to tackle the Boston Marathon or the Tough Mudder. But be warned: just like eating potato chips (but way more healthy), you can't stop at just one 5K!